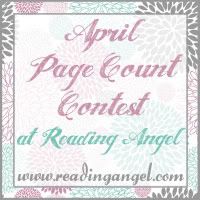 Click on this button to go directly to the sign up page.
I haven't read as much as I should of last month, so this month I'm trying the April Page Count Challenge/Contest, hosted by Angela @ The Reading Angel. Last month I made a To-Read list but never got around to it. Maybe this will motivate me to read more.
It sounds fun.
Cinder by Marissa Meyer (387 pages)
The Other Life by Susanne Winnacker (314 pages)
Ashes, Ashes by Jo Treggiari (341 pages)
Kill Me Softly by Sarah Cross (331 pages)
Reincarnation by Suzanne Weyn (293 pages)
The Immortal Rules by Julie Kagawa (485 pages)
The Wereling by Stephen Cole (264 pages)
Touch of Frost by Jennifer Estep (350 pages)
Gifted by Marilyn Kaye (222 pages)
Evernight by Claudia Gray (327 pages)
Monument 14 by Emmy Laybourne (304 pages)
In total that's 3,618 pages!
I might have added to many books, but I'll try to read as much as I can. I'll just update this page when I'm done reading one of the books.
UPDATE
3,618
-264 (The Wereling)
-----
3,354 more pages to go!
-222 (Gifted)
-----
3,132 more to go!
-485 (The Immortal Rules)
-----
2,647 left!