If you'r like me, then you have a HUGH TBR pile, and so does

Dutchie

@ BA Reading Challenges. Theres a reading challenge there called Off the Shelf Challenge. If you have a pile and a half of TBR books than you should start this challenge. Unlike my iFae challenge I found this one before it started, lol! This challenge January 1st 2011 and goes until December 31st 2011.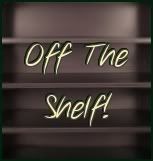 Decide which challenge level you'll be doing (further below) - do not include books that you buy from the start of this challenge.
Grab the code for the badge down below and post it on a side bar or in a signature (if you want to participate, but aren't blogging, on a social network or forum - Submission For Non Bloggers).
Create your own post to let all your readers know you're taking part in the challenge and at what level (if you're really proficient you can list your books!). Make sure to link back to this page with either one of the buttons or a text link..
Use the link form below to enter into the challenge by sharing your challenge post url and your name (either your name, blog name, or both).Please don't use the comment form to participate, only to comment on the challenge or something else..
Submit your reviews (if you choose to review them, but that is optional) on the review page.
When you've completed you're challenge let us know on the completion post. If you're using a tag or category I recommend sharing the link back to that so everyone can find them
Challenge Levels
Tempted– Choose 5 books to read
Trying – Choose 15 books to read
Making A Dint – Choose 30 books to read
On A Roll – Choose 50 books to read
Flying Off – Choose 75 books to read
For extra hard challenges
Hoarder – Choose 76-125 books to read
Buried – Choose 126-200 books to read
I'm going to attempt is Flying Off, since I don't like to read the books that I own, it could be a real challenge for me. :)
Here's my list:
( in no participial order)
1)
Fahrenheit 451: Ray Bradbury
(1-24)
2) Burned (House of Night #7): P.C. Cast & Kristin Cast (5-13)
3) The Princess and the Hound (Princess #1): Mette Ivie Harrison (6-21)
4)
Ballad: A Gathering of Faerie (Books of Faerie #2): Maggie Stiefvater
(7-31)
5) Aries Rising (Star Crossed #1): Bonnie Hearn Hill
6) Swoon (Swoon #1): Nina Malkin
7) Fallen (Fallen #1): Lauren Kate
8) Hush, Hush (Hush, Hush #1): Becca Fitzpatrick
9) Jessica's Guide to Dating on the Dark Side (Jessica #1): Beth Fantaskey
10) Unclaimed Heart: Kim Wilkins
11) The Kings Rose: Alisa M. Libby
12) Tantalize (Tantalize #1): Cynthia Leitich Smith
13) Tithe (The Modern Faerie Tales #1): Holly Black
14) Beautiful Creatures (Caster Chronicles #1): Kami Garcia & Margaret Stohl
15) Poison Study (Study #1): Maria V. Snyder
16) Wondrous Strange (Wondrous Strange #1): Lesley Livingston
17)
Starlighter (Dragons of Starlight #1): Bryan Davis
18)
Evermore (The Immortals #1): Alyson Noel
19) Night's Rose (Night's Rose #1): Annaliese Evans
20) Ice: Sarah Beth Durst
21) Hearts at Stake (The Drake Chronicals #1):Alyxandra Harvey
22) Daughter of Silk (The Silk House): L.L. Chaikin
23) The Accidental Demon Slayer (Demon Slayer #1): Angie Fox
24) Memoirs of a Geisha: Arthur Golden
25) In the Serpent's Coils (Hallowmere #1): TIffany Trent
26) Brisingr (The Inheritance Cycle): Christopher Paolini
27) The Replacement: Brenna Yovanoff
28) Clockwork Angel (The Infernal Devices #1): Cassandra Clare
29) Firethorn: Sarah Micklem
Post the rest later...
30)
31)
32)
33)
34)
35)
36)
37)
38)
39)
40)
41)
42)
43)
44)
45)
46)
47)
48)
49)
50)
51)
52)
53)
54)
55)
56)
57)
58)
59)
60)
61)
62)
63)
64)
65)
66)
67)
68)
69)
70)
71)
72)
73)
74)
75)